All Items There Are for Free Shipping
Did you know that DavisMicro has a free shipping zone? If no, you should really read on to learn the details as it is all about making savings on your cost! International shipping fees are always a big concern for global buyers. Sometimes the shipping cost can be even higher than the cost of the item itself. So when you shop an item from the China wholesale shopping website DavisMicro.com, you should select the most money-saving shipping method for your order. Of course, don't forget to check if free shipping is available for the item.
OK, let's back to the topic—what exactly does DavisMicro Free Shipping Zone look like? You can find the access to the zone at the right bottom of their homepage. And after you enter the zone, you will see 30 items that are labeled with a 

mark listed neatly on each of the 288 pages. Wow, from the page number we can see that DavisMicro has quite a wide range of free shipping items!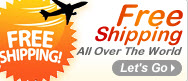 Then, how to choose the item you are looking for from the sea of free shipping items? Don't worry, DavisMicro has a user-friendly system for their customers to easily find out what they want. On the top and the bottom of each page of free shipping item listings, you can find a 'Sort by xx' drop-down menu which includes 5 options for you to further define your search: Best selling, Time: newly listed, Price: highest first, Price: lowest first and Category. Just select any of the options, then you will be able to see the listings that contain the items you are interested in.
Of course, you don't necessarily have to enter the free shipping zone to get free shipping deals. You only need to check if the item you find is marked with the logo Free Shipping, then you can be confident that you are buying a free shipping item. It does matter in what way you find the item and what really matters is whether the item is marked with the Free Shipping tag.
Finally, again, we remind those who are about to shop electronics or cell phones from DavisMicro that their free shipping deals are a good way to save your cost and never miss them out!
Click to visit DavisMicro.com.
Leave a Reply