Every day I receive dozens of newsletters or promotional emails from online Chinese stores. I subscribe to these emails just to get myself alert to the latest great offers as well as the interesting products. A few days ago, I got an email from Focalprice.com (a Shenzhen based shopping site), which promote their collection of Creative Home and Garden products and was impressed by the portable sewing machine.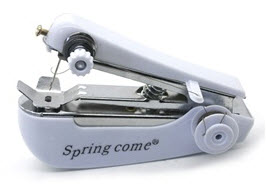 Coincidently, the next day one visitor of my site asked me about my opinion about this kind of product. Be honest, as a housewife I myself am not familiar with the mini sewing machines. I am not a good housewife and I never do any sewing with a machine – I do some quick fixes on clothes or bags with a needle anyway. Besides, I never see any people around me use this stuff to sew clothes or do fixing jobs. Considering that this machine may help me somehow with my housework and also a good item for re-sellers, I decided to do some research on it. Below are my findings:
The machine is compact in size, fitting well in hand being portable and easy to use.
It's great for quick repairs or jobs that conventional desktop machines can't handle, like sewing curtains while on the rod, or seal up a torn pocket without having to remove your pants.
It can be used to fix hems or shorten slacks.It can work on all fabrics, but based on customer reviews, works better on thinner fabrics.
It makes a sturdy stitching as long as you get used to the machine and use it on suitable materials.
From the number of reviews left in Russia, it seems this product is especially hot-selling among Russian buyers.
The package of the machine is not satisfactory. Some buyers claimed that there are slight damages when they received the item from Focalprice.com although in most cases the company does offer a solution to the problem, e.g. giving a coupon for future purchases to compensate the loss of the buyers.
It is priced at $4.79 with free shipping on Focalprice.com; if you purchase over 10 pieces in a single order, you can get them at $3.81 per piece. The prices for different handheld sewing machines at Taobao.com (the Chinese eBay) range from ¥2 RMB to ¥60 RMB (about $10 USD) depending on quality standards. Taking international shipping fee (which takes around $4 USD to most destinations) for this product into account, the price Focalprice offers is very competitive.
This product is available in many Chinese online stores other than Focalprice.com at slightly different prices, including Lightake.com, Dinodirect.com, Aliexpress.com, Ahappydeal.com and more. If you know more sites that offer the mini handheld portable sewing machine, please share it in the comment box below.
My advice for re-sellers:
Seeing that the creative sewing machine has much more positive reviews than negative reviews both among global buyers and Chinese consumers, it should be deserve an investment.
You can start with a small order to test the water and to see if it is liked by your customers before you put big money in stocking up on the product.
You are encouraged to buy the machines that come in different brands from different Chinese suppliers so that you can compare the quality and prices.
Leave a Reply