The FIFA World Cup 2014 begins on Thursday, June 12 and ends on Sunday, July 13 in Brazil. If you have bought the tickets to attend the exciting games, you may need to prepare some cool FIFA World Cup game travel accessories. The most money-saving way to purchase such gear is to shop online with stores based in China, where most football game supplies are manufactured.
This post will share you with some popular and trusted online Chinese shops offering collections of discounted FIFA World Cup 2014 Brazil travel accessories. Of course, even if you don't have any plan or schedule to watch the games in Brazil, you can also consider buying some lovely accessories to enhance you game watching experience in a local bar or the like. The FIFA World Cup related supplies introduced below may suit your needs as well. Likewise, some gadgets or gear with the 2014 FIFA World Cup theme are so creative that they can be unique add-ons to a cool lifestyle.
DHgate.com: This wholesale trading site is definitely the biggest online destination to shop for cheap FIFA World cup supplies in China. Actually it is the best place to buy all kinds of accessories or supplies for world popular sports games such as FIFA World Cup. It stands out by unbeatably huge varieties of sports related products and lowest wholesale prices. Stores doing business with global buyers at DHgate.com are mostly run by small and medium-sized merchants and they tend to require a very small minimum order quantity while offering the rock-bottom market prices. For the FIFA World Cup 2014 Brazil, it carries over 1,300 promotional products, including LED bracelets, World Cup pendant keychains, national flag knitted hats, FIFA World Cup 2014 souvenirs, World Cup plush doll toys, game fan glasses for masquerade carnivals and much more. Free shipping is extensively offered and you can enjoy great discounts on the select products before the game ends.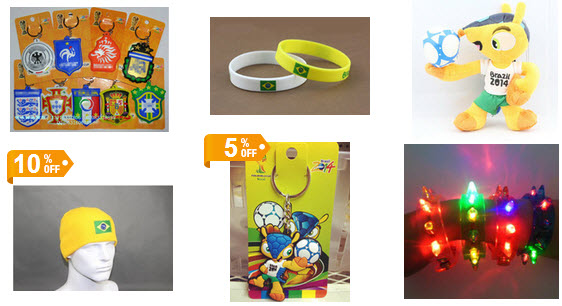 Dinodirect.com: As an online shopping mall with its own warehouses, this site sells a wide range of products covering every field of people's life. It is one of the biggest Chinese B2C e-commerce websites targeting global customers. Now it is promoting a selection of FIFA World Cup 2014 Brazil accessories such as soccer jerseys, training pants, sports shoes, goalkeeper gloves, footballs, souvenir cups and others. The discount rate is as high as 50% off.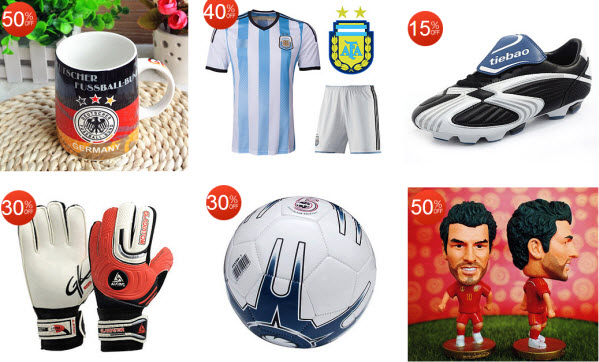 Buyincoins.com: This is a widely used Chinese store where you can get lots of lovely stuff with just a few coins. There you can find almost no expensive products and everything is available at a very tiny price. Its FIFA World Cup 2014 Brazil collection, for example, includes a vast array of products at as low as under $1. There you can find all sorts of FIFA World Cup products, from national team flags, to cheer horns, to national team scarves, to national team brooches to everything else related to the grand sports event. Free shipping is honored on every product there.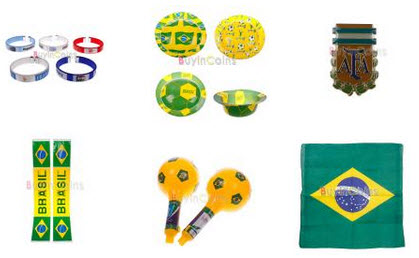 Tmart.com: The cool gadget store is currently hosting a FIFA World Cup 2014 Brazil sale with some lovely football game themed gadgets. If you are a sports fan who loves novelty products, the sale may interest you. I personally love the following on-sale FIFA World Cup deals offered by the online store very much. For more creative products, just click on the image to view the whole collection at the site.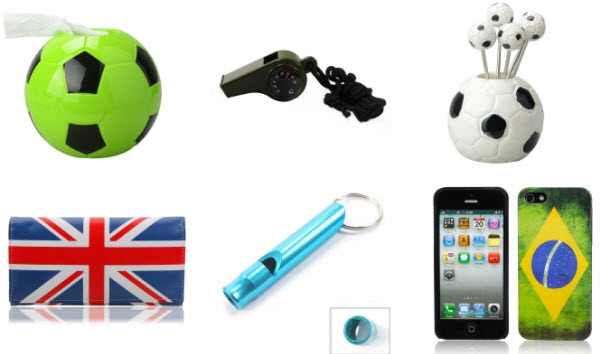 Focalprice.com: The Shenzhen-based gadget store is now offering up to 29% off on a small range of cool gadgets themed by 2014 FIFA World Cup. All on-sale products in this collection are either featured by national flags or related to footballs, sports shoes or other football game supplies. Some novelty gadgets there are good for gifting others who love football, e.g. football shaped USB flash drives, football shoe USB flash drives, etc.