Be honest, I had never heard of Bywholesale.com until one day I was asked to review the Chinese jewelry shopping site at my blog. People leave questions in the comment boxes, requesting me to help review or confirm on the legitimacy of a certain China site quite frequently but I don't always have time to do the favor. Anyway, the site Bywholesale.com raised my interest instantly simply because its domain name sounds quite special and impressive. Below I will share my findings about this site just as a reference to those who are interested in shopping jewelry from them or from any other Chinese wholesale websites.
Website Legitimacy
Before you trade with a site, you should first of all check if it is legit or fraudulent. Also, see if it is infected with fishing, malware or fraud. You know, safety is the most important thing when it comes to online shopping.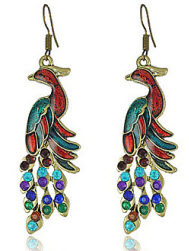 Based on my research, Bywholesale.com seem to have all the certificates that can prove they are legitimate, including organization code certificate and tax registration certificate, but I can't confirm whether they are true or not. One thing I am pretty sure is: their McAfee and Norton Secured logos are not clickable, which may mean the site is not really supervised or verified by the two authoritative website security certification providers.
A plus point of Bywholesale.com is: they indicate clearly their contact details on their website. Besides email address and phone number, they also provide a detailed office address. They are based in Guangzhou, China. I checked the legitimacy of the address and it does exist. They claim they have their own factory and showcase the pictures of the warehouse and workshop at their site. You can ask to visit them if you have a chance to visit the city. Generally, those welcome you to pay them a visit are more likely to be trustworthy.
From the information posted on Who.is, the domain name Bywholesale.com is registered in March, 2012 but they claim the site is built in 2009. I seriously doubt it. Many small Chinese sellers try to convince their customers that they are trustworthy by claiming they have been in the business for years. This could be such a trick.
Anyway, so far I still don't believe that they are a scam. Instead, After all, their website layout is well designed with products listed neatly and information indicated clearly. Also, it is good to see that they accept Paypal for payment. I incline to say that they are a small online Chinese supplier of fashion jewelry including gold plated jewelry, wedding jewelry, crystal jewelry, sterling silver jewelry, wholesale costume jewelry and more. It is likely that they are simply not so professional in presenting themselves to the world and consequently they lose people's confidence in them.
Website Rankings
Let's see the site's Alexa rankings as follows: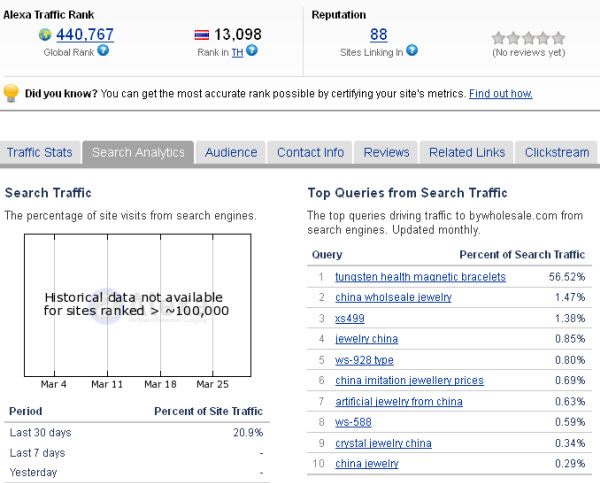 From the Alexa statistics, their ranking is not impressive at all with an average daily traffic of about 1,000 visits. Their major audience (about 32%) comes from Thailand, not from the USA or European countries or regions. Anyway, their top search queries are closely related with fashion jewelry or wholesale jewelry.
Customer Reviews
I tried to search real customer reviews or comments on Bywholesale.com but got few results. This further proves my idea that they are very small – at least not popular on the global market yet. When you fail to find any negative reviews against a Chinese shopping site, it is not always good news. Try searching for good reviews of them, if again you find few results, you should be cautious as they are too small to be discussed on the internet.
Similar Sites
My personal rating for Bywholesale.com is 2.5 out of 5 stars. Considering that their prices are extremely low and they require a MOQ of only $50 for a single order, if you do want to buy cheap fashion jewelry from China, you can give them a try. They also accept sample orders. This means you can place a very tiny order without meeting the MOQ requirement.
There are lots of more reliable online Chinese stores where you can purchase low priced wholesale fashion jewelry. Here are some of the best: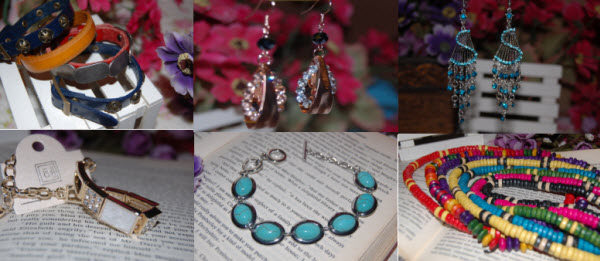 One Response to "Bywholesale Review: Company Info, Real Customer Reviews & Similar Sites"
Karyn Says:
August 25th, 2013 at 2:56 am

Well, just have a research wether the wholesaler is legit or not
Leave a Reply