The sizzling summer is just around the corner and many ladies start to look for quality and fashionable swimwear to prepare for the hot season. If you are one of those who are prowling the internet for best deals on 2014 trendy swimwear offered by China shopping sites at low prices, the following information may interest you.
This post will list all the promotions, deals and coupon codes on 2014 swimsuits or swimwear for women offered by the most popular China-based online fashion stores. This time I exclude those trading platforms such as Aliexpress.com or DHgate.com where you can find more choices of swimwear or can enjoy lower prices, simply because I want to help you save time and energy when purchasing good quality and stylish swimwear from China. All stores introduced below are among the most popular Chinese online shops of clothing and accessories targeting global buyers.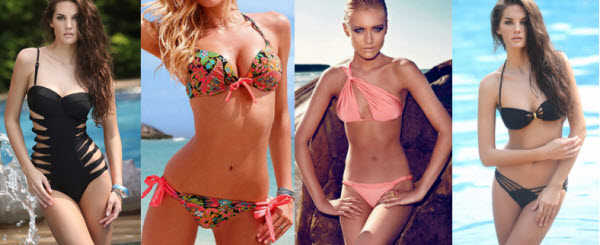 2014 sexy swimwear at Milanoo.com


2014 vintage swimwear at Romwe.com


2014 classic swimwear at Lightinthebox.com


2014 sweet swimwear at Sheinside.com


2014 trendy swimwear at Martofchina.com


2014 lovely swimwear at Sammydress.com


2014 popular swimwear at Rosewholesale.com
Comparatively, swimwear available at these sites is more dependable in terms of quality standards and pricing competiveness. Besides, you are more likely to get satisfactory customer services if you use any of the sites to do the shopping. That explains why I personally rank these sites the top online destinations to shop for cheap 2014 swimwear manufactured by Chinese factories.
Please note that various kinds of promotions are released by the stores and you may also benefit the offers which are not exclusive for swimwear only. For instance, when a site has a "10% off $100 purchase" offer, you can use the coupon code to reduce your cost on swimwear as long as your total order value reaches the threshold. Anyway, it is now the peak season of swimwear promotions and you can often enjoy great discounts on made-in-China swimwear directly. Just add the stores mentioned to your favorites and check back regularly. Pay close attention to the home banner sections and do remember to search for valid coupon codes when you decide to place an order on swimwear of your desire at a certain site. That way you can find best deals in a more efficient way.
Note: you may notice that the swimwear, swimsuits or bikinis available at Sammydress.com and at Rosewholesale.com are very similar in terms of styles. Actually the two sites belong to the same trading company based in Shenzhen and may share the same warehouses. Usually they offer different prices on different styles so just go for the cheaper ones.