The back-to-school 2012 shopping season is now drawing to the end. This also means the greatest deals are coming out as stores all try to seize the last moment to boost their revenues and they need to clear out their inventory for merchandise that fit the next season – you know, Halloween is coming soon. In particular, we've searched the net for the best deals offered by the most popular Chinese online shops serving global buyers and below you will see the offers compiled neatly for your reference.
Back to School 2012 Deals from Milanoo.com
Up to 20% off shoes, bags, clothing and other fashion & accessories as well as a variety of bedding supplies for both boys and girls (mostly for college or university students). Milanoo is best known for trendy clothing and fashion accessories that are commonly affordable. Click here or the image below to see details.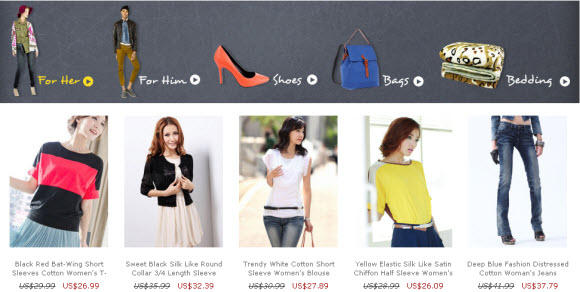 Back to School 2012 Deals from Dinodirect.com
Extra 5% off orders of $40 or more by entering coupon code FORGIRLS at checkout. On-sale products include party dresses (evening dresses, cocktail dresses and prom dresses), casual dresses, bags and handbags, women's shoes and more. Dinodirect is a big online shopping site where you can find a vast array of authentic Chinese branded products at reasonable prices. Brands that have joined this promotional activity are QingQing, Walesbridal, Vienna, Ousang, dandballet, BeiBaoBao, SSBP, Danny Bear, DYY, grace, Mancienne, Lovemei, mast, SH-SY, YW, JJ and Vacation. Click here or the banner below to see details.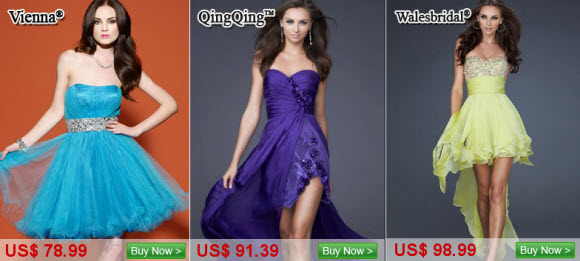 Back to School 2012 Deals from Focalprice.com
Up to 35% off a huge selection of electronic gadgets and accessories, including tablet PCs, cel phones, cases for iPhone 4 or 4S, earphones for iPhone 4 or 4S, iPad screen protectors or cases, mini audio box speakers with power charge station for iPhone, cartoon USB flash drive, laptop backpacks, wireless mouse, calculators, Gel-in pens and lots more. If you are looking for low priced made-in-China electronics, this professional electronic supplier is worth consideration simply because they are tested and offer attractive prices. The sale lasts till 31 August. Click here or the image below to view more deals.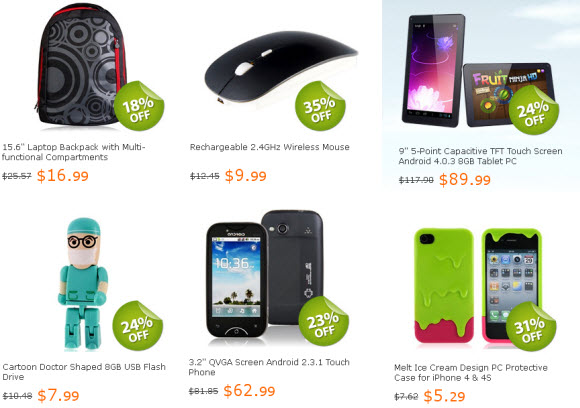 Back to School 2012 Deals from Tmart.com
Up to 68% off! Tmart, another well-known online store based in Shenzhen, China, offers manufacture prices and free shipping on thousands of cool products that cover different fields of our lifestyle. For this promotion we see lovely deals with deep discounts on electronics, stationery, campus fashion and accessories and living accessories and gadgets. Their prices? Just see some of the prices shown in the image below and you will get a basic idea on how competitive their prices are. Click here to see details.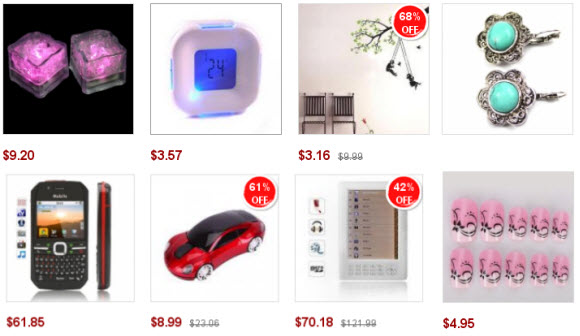 Back to School 2012 Deals from Priceangels.com
Up to 20% off cool gadgets and accessories. Interesting products are always the eye-catchers that make Priceangels stand out among so many competing Chinese sites. For this sale we can find high margin goods which are widely sought-after among consumers all over the world, such as transparent touch-screen solar calculators, skull shaped USB flash drive, creative pattern short t-shirts, Ben10 style projector watches for kids. Free shipping is also available. Click here or the image below to view more deals.

Back to School 2012 Deals from eForChina.com
12% off select items with coupon code EFORCHINABTS (for the exclusive page only) or BTS2012 for categories of Home Care, Consumer Electronics or Watches & Clocks. Do remember to inpute the coupon code at checkout in order to get the discounted prices! As a young name on the Chinese online export market, eForChina is endeavoring to attract more customers by offering low prices and free shipping service. We notice that they do have some products that are unbeatable in terms of pricing. The following image presents the after discount prices for some of the deals. If you want to see more deals, just click here.

Leave a Reply