Just now I found that Aliexpress has a very attractive sale that starts in 4 hours and will last for one day only (August 21). The products selected for the promotion include electronic gadgets and accessories, clothing, wall stickers, jewelry, Halloween masks, RC helicopters, LED lights, watches and wigs. All are offered at slashed-down prices with 50% off. Free shipping is available too.
If you are interested in sourcing any of the products mentioned above, you cannot afford to miss out these rare deals. Based on our knowledge, Aliexpress seldom offers such a deep discount which leaves almost no profit margin to their suppliers. That is probably why the sale lasts for one day only. Otherwise they sellers may go bankrupt, lol.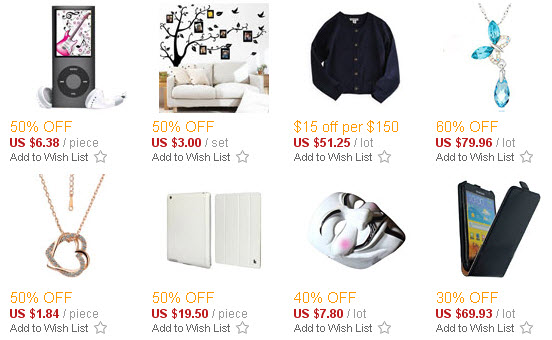 Take a close look at the sale here >>
While amazing varieties of products and unbeatable prices are the best attractions that make Aliexpress.com a good choice to source made-in-China products, you should use caution when shopping there in case you encounter scammers. Note that Aliexpress is a trading website that provides buyer protection service by withholding the payment made by buyers until the orders successful arrive at the buyer's addresses and no dispute is incurred. The sellers that have joined this promotional activity are selected by Aliexpress staff so their credibility is better guaranteed. However, in case you encounter a dispute with any seller there, we think it still necessary to remind you that you should always use the site to place the order or solve problems related to the order.
Never bypass Aliexpress.com to trade directly with the sellers or follow the sellers' instructions to get a solution to your problems. For instance, if a seller asks you to remove the negative feedback you left for him/her before they give you a refund, chances are they won't give you anything and you are no longer authorized to change your feedback anymore. On the other hand, if you report the case to Aliexpress and provide all relevant evidence, they will handle your case in an unbiased way and refund you the money if it is the seller's fault.
Anyway, most suppliers there are tested and reliable. They register with Aliexpress.com as their members to make profits by doing serious business so don't simply freak out and abandon this site when you see some bad reviews against Aliexpress. Just do research. You will find that no Chinese global online shopping websites are free from complaints. Then what can you do? Not to buy anything from China may be the only choice to keep you completely safe.
Good luck with your shopping!
Leave a Reply