The New Year 2012 is coming around the corner! We visited all popular China-based online shops, trying to find the best New Year 2012 deals for our readers. Unfortunately, it is probably because the Christmas sales are still on-the-go, we found few online shopping websites that offer specials for the New Year. However, we did find one famous Chinese wholesale transaction platform with the New Year big sale: AliExpress.com (Read AliExpress Review).
AliExpress never misses out any important event to boost its revenue. For the New Year 2012, the site offers up to 35% off a variety of bestselling products from different sellers or stores there, including electronics, fashion and home and garden products. Each of the promotional categories has a selection of amazing deals with nice discounts. Plus, free shipping is available. The sale ends December 23 — enough time is left for orders to be delivered in time for the New Year.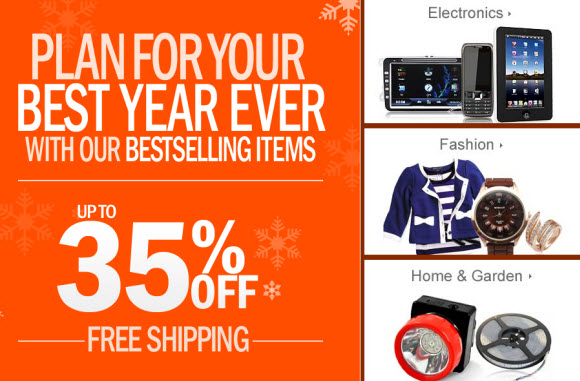 Electronics on sale (UP TO 35% OFF): cell phones, stylus pens, earbuds, car videos, mini hidden DVR, mini digital satellite receivers, angel speakers for iPod, tablet PCs, netbooks, novelty mouse and cases for iPad 2.
Fashion on sale (UP TO 30% OFF): jewelry sets, bracelets, wristwatches, plastic watches for kids, men's watches, hair extensions, flat hair irons, handheld body massagers, women's long coats and waistcoats, fashion scarves, dancing skirts, jerseys, bras, baby's hats with ears, fur shawls and nail art brushes.
Home & Garden on sale (UP TO 30% OFF): IP cameras, car cameras, headlights, LED strips, LED candle lights, LED light bulbs, neodymium cube magnet balls, electronic shock game toys, turbo timers and full carbon road bicycle frames.
All these bestsellers are supplied by reliable sellers registered with AliExpress.com. The quality should be trustworthy. If you are re-selling any of the above mentioned on-sale products, take a good look at the offers. You may find desired deals there!
Leave a Reply