Some of our readers left comments or emailed us asking where they can get low priced baby clothes or kids' clothes. Actually I have published a post about this topic: Great Sources for Wholesale Kids' Clothing. Anyway, considering that more people may be interested in deals on baby apparel or kids' apparel offered by Chinese suppliers, I have been paying constant attention to the latest special offers on such products.
Recently, I noticed that Aliexpress had launched a collection of spring 2012 baby clothes and kids' clothes for boys and girls, with up to 10% off. Plus, free shipping is available on most items to most destinations around the world. The clothing and accessories for baby and kids on sale there include baby rompers, girls' dresses, hats and caps, clothing sets and coats and pants. Whether you are looking for lovely apparel for your own kids or to gift your friend's kids, or you are prowling the web for best deals on wholesale baby and kids' clothing for your resell business, this selection is worth taking a look. There are many cute styles to choose from!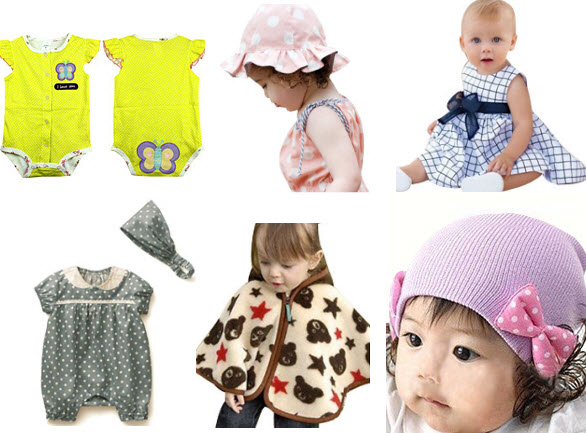 Note that Aliexpress is not a seller. Instead, it is a trading platform serving suppliers and buyers. The discounted baby and kids' apparel and accessories are offered by various suppliers. As a result, you can't mix orders when the items are offered by different sellers although the same store usually allows you to mix orders. One more thing to pay attention is that some suppliers accept minimum order quantity as low as one piece of item while most require a MOQ of one lot. However, different suppliers definite one lot as different quantities. Generally, one lot may equal to 2-10 pieces. It all depends on specific requirements of the stores so confirm the details with the sellers before you order.
As always, the prices for the baby clothing and kids' clothing are highly competitive if not the most competitive on the market. Sold in small wholesale quantities, these products may not be able to beat those available in large wholesale quantities like 100 pieces per order, they are good enough to help merchants make big money from selling them. Besides, the refreshing styles are a big plus to the value of the deals. Just check out the promotion yourself at AliExpress.com.
For more information about top deals on various products, search the box at the right corner of my site or see my future updates. Good luck!
Image courtesy of Aliexpress.com
Leave a Reply