This year Halloween falls on Wednesday, October 31, 2012 – it's only weeks ahead! Anyway, if you are looking for 2012 Halloween deals from online Chinese suppliers, it is still not late. On the contrary, it is now the perfect time to hunt for the best deals with the deepest discounts on a variety of Halloween supplies, including costumes, wigs, masks and lots more products that feature horror, fun or sexiness.
Low pricing is generally the very attraction of made-in-China Halloween supplies. The vast array of categories and styles further popularizes the Halloween products offered by Chinese suppliers. If you want to buy such stuff from online Chinese stores, do remember to choose legitimate and reliable websites with good reputation. Otherwise you may lose money simply because you encounter a scammer.
Here we would like to remind you that it is always necessary to confirm the nature of a China-based online shop before you invest the first amount of money in them. Though doing much research on the shop you are interested in may kill you a lot of time, you will find it totally worthy after you discover a good supplier for your business or for your personal needs through a thorough investigation. Also, if your friends or family recommend some good Chinese shopping websites to you, you can give them a try as they probably have used them and benefited from their shopping.
As a professional review website, we will list some popular and tested Chinese sites offering Halloween 2012 deals below. Again, we encourage you to do further research on them even though they are basically trustworthy based on real customer reviews. Each and every store recommended has their own pros and cons. For instance, some stores may stand out by quality while some others by pricing, service or item variety. Doing research can help you uncover the details so that you can make a better shopping choice.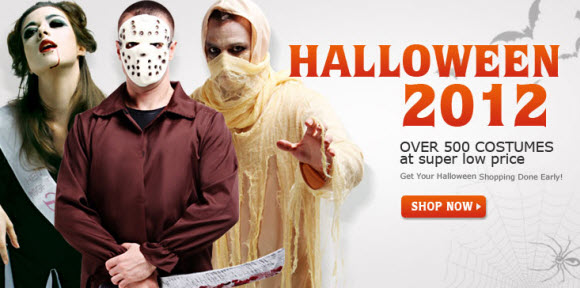 This site is, based on our personal criteria, the best Chinese destination to shop for cheap costumes and accessories, including cosplay costumes, zentai costumes, pet costumes, wigs and more. They carry a huge variety of costumes and accessories that fit perfectly the Halloween themes. Besides, they are a big name on the global market and have built a big customer base around the world since they were founded in 2008. For Halloween 2012 only, they have 500 plus styles in costumes to choose from, all offered at super low prices.


When it comes to purchasing costumes from China, FTCline.com is a good alternative to Milanoo.com. With a huge collection of sexy costumes, zentai and catsuits, Lolita dresses, wigs and other Halloween accessories, this site offers competitive prices as well as lovely discounts to attract customers. As a new player in the business, they are not famous. Anyway, they are worth checking out given the low prices and the huge variety of styles. Now when you order an item at their Halloween sale page, you can get 10% off by inputting the coupon code "hlw2012" at checkout.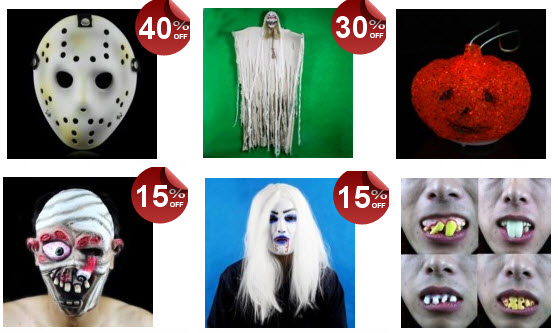 As a site focusing on cool gadgets, they do not have so many Halloween supplies as the stores mentioned above do. However, they do have a promotional collection for all kinds of Halloween party supplies, including scary masks, make-ups, bloody hands, ghost skeleton, toys or props, Jack O lantern LED lights, funny buck teeth and more. With up to 40% off, the on-sale products are priced at as low as $2.66. Offers end November 1th.
More Chinese stores with Halloween sales are as follows (click the images to see details):
eForChina.com: 5% Off Any Item with Coupon Code "HALLOWEEN12"

Focalprice.com: Up to 20% Off Halloween Supplies

Lightake.com: 5% Off Halloween Supplies with Coupon Code "LIGHTAKE922ID15"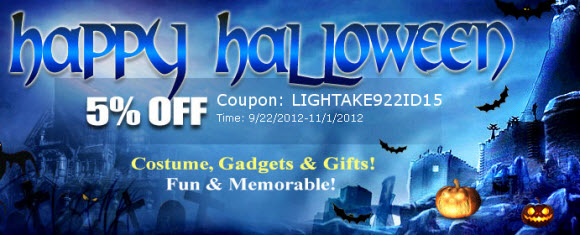 Dinodirect.com: Extra 10% Off Any Order of $80 or More with Coupon Code "2012Halloween"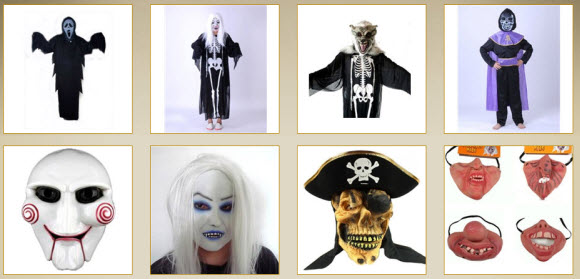 Leave a Reply