2012 Black Friday is almost here! Have you got ready to snap up great deals for the holiday?
Now given the convenience brought by online shopping technology, we no longer need to wait in the long queue outside the store in the early morning to seize the best Black Friday deals. Shopping online stores for what we want is both time-saving and money-saving – we tend to find lower prices for the same product as the number of competing stores is much bigger and the cost for running a virtual shop is much smaller.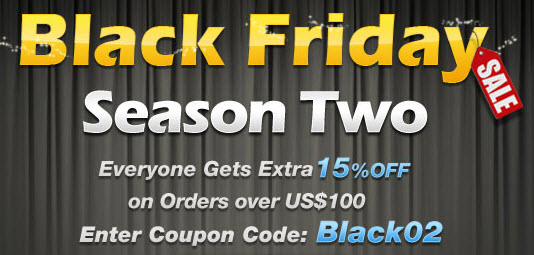 Image courtesy of Dinodirect.com
I noticed that some Chinese shopping sites have already started their Black Friday promotions in order to boost their revenues – yes, they claim they launch the deals early in order to benefit their customers, lol. Anyway, in case some of our readers are interested in getting 2012 Black Friday deals or 2012 Cyber Monday deals from Chinese stores online, I am compiling such deals for your reference. Below you will find the Black Friday sales or Cyber Monday promotions held by the China-based international shopping sites I myself am quite familiar with.
Black Friday Deals with Up to 70% Off: Electronics, Mobile Phones, Tablet PCs, Weddings & Events, Home & Garden, Health & Beauty, Fashion, Cosplay & Costumes and Gadgets & Toys
Black Friday Sale Season 2: Get Extra 15% Off Orders of $100 with Code "Black02" at Checkout
Black Friday Offers with the Biggest Discounts: Cell Phones, Tablet PCs, Computer Peripherals, Watches for Men, Car Electronics, Outdoors & Sports, Flashlights & LED Lights, Home & Office and Hobbies & Toys
Thanksgiving & Black Friday Deals with Up to 72% Off: Home & Garden, Watch & Jewelry, Video Games & Toys, Accessories for iPhone, iPad & iPod and Tablet PCs & Smartphones
Black Friday Season One: Select Products Starting at $0.99 Only
Black Friday Season Two – Up to 50% Off:  Cell Phones, iPad Accessories, iPhone Accessories, Tattoos & Body Art, Home Improvement, Xbox 360 Accessories, Flashlights and LED Light Bulbs. (NEW UPDATE)
Up to 46% Off, Starting $1.50 Only: Cell Phones & Accessories, Jewelry, Toys, Tablet PCs, Car Transmitters and more. (NEW UPDATE)
More information about the deals offered by more Chinese stores will be updated here as soon as I discover them. So just stay the lookout for the upcoming Black Friday or Cyber Monday deals by checking back this post regularly.
Leave a Reply