Based in Shenzhen, YoTang is another China wholesale trade platform similar to AliExpress. Though it is not as famous as the latter on the global market so far, it does have its strong points.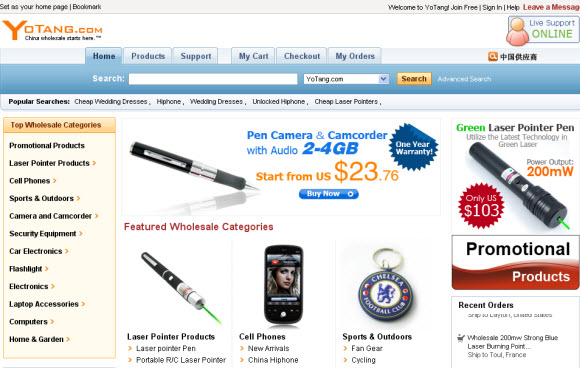 Shenzhen is the biggest manufacturing hub of a variety of cheap wholesale products, especially electronic products. Every year, factories located in Shenzhen supply a huge number of products for the domestic and export markets. It's widely acknowledged that wholesale products come from Shenzhen are the most competitive in pricing and quality. Being closely connected with Shenzhen factories, the China wholesale trade platform YoTang is able to attract them to sell their products through its trade platform to global buyers. As a result, qualified suppliers and low priced items become two big attractions of YoTang.
Another outstanding feature of YoTang is its being focused on item categories. Unlike AliExpress, YoTang does not cover too many item categories to make itself a supermarket. Instead, it specializes in several categories only, mostly related to consumer electronics, including laser pointers, cell phones, cameras and camcorders, security equipment, flashlights, computers, laptop accessories and more. By offering a limited number of item categories, YoTang makes itself look more professional in the field of electronic supplying. Also, the China shopping platform is thus able to better optimize its resources to provide best services for its clients.
Then, fast item processing and delivery should be the third quality of the China wholesale trade platform YoTang that makes it stand out. Generally, after a buyer places an order, the item(s) will be prepared in 1-2 business days and delivered to most destinations in 3-5 business days. For international orders, it's really fast. Based on our findings, YoTang cooperates with an array of famous shipping carriers including DHL, EMS, UPS, TNT, FedEx, Hongkong Post and so on, which explains why its delivery time is guaranteed.
Other Basic Info About YoTang:
Payment methods accepted: Western Union, Xoom or Wire Transfer.
Website security: It uses SSL to provide security and data integrity for communications over Internet so placing orders there is safe.
Order quantity required: Though YoTang is a wholesale platform, small quantity orders (including retail orders) are commonly accepted and welcomed. Besides, small orders will be handled with equally good services like bigger orders.
Member registration: It costs only a few seconds to register with YoTang to buy anything you want. All you need to provide is an email address.
Promotions available: It launches promotions of different kinds quite frequently. You can find the regular promotions from the homepage banners or the "Promotional Products" Zone.
Website layout: Its website looks simple and user friendly. It's easy to navigate and find the item you want there. Different sections are clearly separated from each other and product images are of high quality.
For more details, you can go visit YoTang.com.
Leave a Reply