Since Milanoo.com introduced its Brand Store in early April this year, more and more top Chinese fashion brands have been added to enrich the product line. VANCL, the popular Chinese brand of casual and sports apparel and accessories, is among the first selection of brands that were invited by Milanoo to the exclusive store.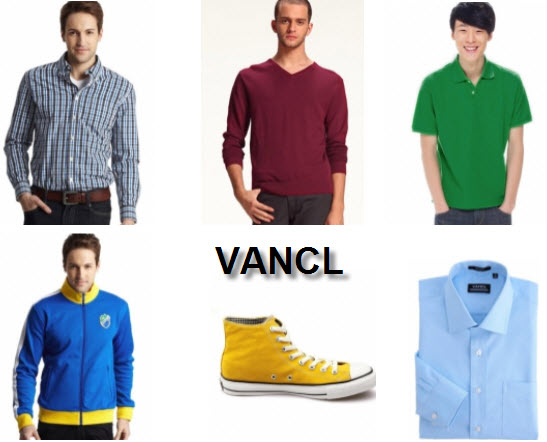 In China, VANCL apparel and accessories are very hot among people who often shop clothing and fashion accessories on the Internet. Founded in 2007, the top Chinese clothing brand has achieved huge success in the arena of online apparel shopping. By offering quality but commonly affordable apparel and accessories labeled with the brand "VANCL", the online fashion store enlarges its customer base across the country quickly. Now if you say you do not know anything about VANCL in China, you will be instantly considered as being too out.
Based on our findings, good quality, trendy styles and humble prices compose the major reasons for which Milanoo introduces VANCL apparel and accessories into its Brand Store. Being a widely sought-after brand among Chinese customers, VANCL has been proven to be commonly trusted in terms of item quality. Then, from the wealth of reviews about VANCL apparel, we can see that the in-fashion styles and designs of VANCL clothing and accessories are another great attraction of the brand. In addition, VANCL products are very competitive compared with those at the similar quality level. We've made a detailed comparison and founded that the prices of VANCL apparel offered to global buyers at Milanoo.com are very close to those offered to Chinese domestic customers on the VANCL.com site.
The VANCL brand mainly covers clothing and accessories for men, women and kids that feature casual and sports styles. But it also offers some useful home and garden products such as storage containers, bedding sets, clocks, towels, etc. However, currently at the Milanoo Brand Store, the VANCL products available there only include men's apparel and accessories: men's dress shirts, men's polo shirts, men's sweaters, men's sneakers, men's jackets, men's casual shirts and men's hoodies & sweatshirts.  We guess this is because Milanoo has just opened its Brand Store for one month only and needs time to update the VANCL catalog with more products. We believe that in the near future more VANCL product categories like women's dresses, women's blouses, women's tops and women's pants will show up there with their refreshing styles. By the way, the prices for the VANCL products now available at Milanoo start as low as $9.99 only!
If you are interested in sourcing top quality Chinese branded clothing or accessories, VANCL may be your great choice. And obviously, Milanoo.com is the easy shopping channel to buy VANCL apparel and accessories as the site completely faces international buyers and is mature and trusted in cross-border trading. Check out the VANCL Apparel & Accessories at Milanoo now!
2 Responses to "VANCL Apparel & Accessories: The Leading Chinese Brand of Casual & Sports Fashion Now Available at Milanoo Brand Store"
Milanoo Introduced over 20 Top Chinese Fashion Brands Says:
October 8th, 2011 at 10:38 pm

[…] very competitive prices. Its best known product lines include Cosplay costumes & wigs, wedding apparel & accessories, special occasion dresses, women's daily fashion, men's fashion, kids' fashion & toys, […]

Top Picks in Fur Apparel and Accessories to Keep You Stylish and Warm This Winter Says:
December 12th, 2011 at 4:14 pm

[…] style from the above collection, you can stay up-to-date on their ever-adding new arrivals in fur apparel and accessories. Or, you can simply add this post into your favorite and check back regularly for my updates on […]
Leave a Reply