Thanksgiving Day 2013 is getting earlier and earlier as the year goes on. As a day preceding Black Friday, the start of the Christmas shopping season, Thanksgiving Day is also traditionally regarded as a good opportunity to get awesome deals. This year, a number of famous American retail stores like Macy's and J.C. Penney have announced that they will open their doors on Thanksgiving Day to let their customers shop early the Black Friday 2013 deals.
On the other hand, most online shopping sites kick off their Thanksgiving Day or Black Friday sales weeks earlier to avoid getting their shopping system congested by the mops of shoppers. Of course, the other more important reason is to seize the best opportunity to boost their revenues. For instance, Amazon.com generally starts Thanksgiving Day or Black Friday promotions in early November. Likewise, many Chinese online stores serving global buyers offer Thanksgiving Day deals from as early as late October.
Below is the handpicked list of China-based online stores which have been hosting Thanksgiving Day 2013 deals for international buyers:
Focalprice.com Thanksgiving Day 2013 deals on cool gadgets including made-in-China Android smartphones, Android mini PCs, Android tablet PCs, wireless headsets, RC helicopters, car accessories and more.


Ahappydeal.com Thanksgiving Day 2013 deals on Rhinestone earrings, Rhinestone pendants, stylish charm bracelets, gemstone embellished necklaces, micro touch magic max personal trimmers, compact knife sharpeners, plush feet pattern winter slippers, professional 88-color eye shadows palettes, MP3 players with FM, LED pocket lamps, night vision security cameras, digital automatic wrist watches with chest band, cable clips, mini battery checkers, portable home digital wrist blood pressure monitors, mobile phones, tablets, electronic accessories and more.


Dinodirect.com Thanksgiving Day 2013 deals on Android tablets, Android game consoles, Bluetooth Android RC cars, alloy infrared RC helicopters, Nibobo ABS pyramid IQ puzzles, RC robot toys, children's clothing, women's apparel and accessories, men's apparel and accessories and more.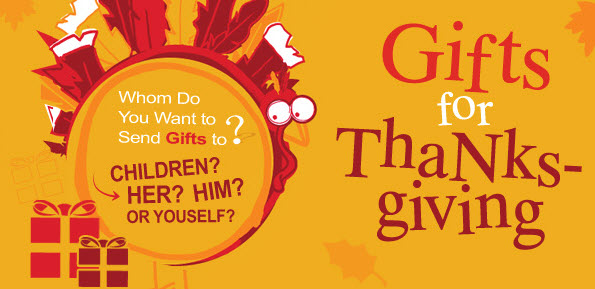 Everbuying.com Thanksgiving Day 2013 deals on fashion watches for men and women, neckline slimmers, vibration slimming waists, alarm security slimming massagers, stainless steel hair trimmers, women's clothing, men's clothing, figure models, LED despicable battery driven music sound toys, pat silicone strap quartz wrist watches for kids, anime dazzling crystal balls, chicken timers with magnet electronic timer countdown device, cell phones and accessories and more.


Aurabuy.com Thanksgiving Day 2013 deals on a variety of Thanksgiving Day gifts for both adults and children, including robotic dog bank toys, star training gun toys, mini RC car models, intelligent girl doll toys, magic cubes, multi-functional projection alarm clocks, Android cell phones, children's big round quartz wristwatches, fashion jewelry, touch screen gloves, LED flashlights, clip design MP3 players, mini portable sphere speakers, fashion sunglasses, stylish watches for men and women and more.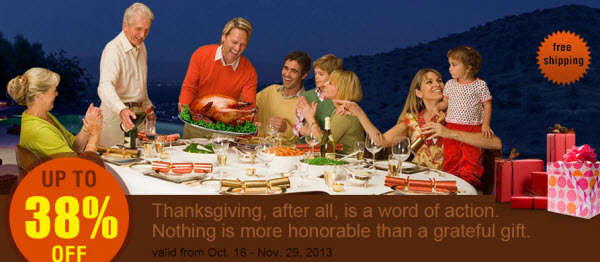 Buysku.com Thanksgiving Day 2013 deals on cell phones, men's electric shaver razors, fashion watches, cool mini violin-shaped USB, LED string lights, vanilla scented remote control color-changing LED candles, women's stylish scarves and more.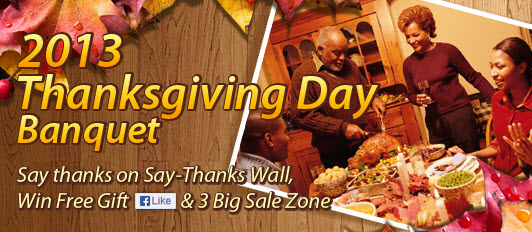 Tomtop.com Thanksgiving Day 2013 deals on cute waterproof baby bibs with pouch, tablets, mobile phones, digital combination locks, waterproof dog clothes, smart SMD testers, WiFi webcams, non-contact IR infrared laser point digital thermometers, solar power toy cars, solar toy tortoises, educational kitchenware toys, RC helicopters, clothing, make-ups and more.


More Thanksgiving Day 2013 deals from Chinese stores will be updated here as they are released. Please check back regularly if interested.
Leave a Reply