We noticed that recently AliExpress has launched many special offers for the Christmas 2011 shopping season. In particular, a big sale on discounted Christmas 2011 lights is now available for a limited time only – from October 24 to December 1. Though the wholesale platform may extend the sale period to a few days longer, we still encourage you to grab the deals as soon as possible.
The discounted Christmas 2011 lights collection at AliExpress includes Christmas outdoor decoration lights, Christmas inside home decoration lights, LED lights and Lights as Christmas gifts. All the lights are selected by AliExpress.com among top suppliers there so the quality is extensively trusted. Discounts are as deep as 40% off and free shipping is available on most orders. If you have any plan to purchase decoration lights for Christmas 2011, you can't afford to miss out such great deals.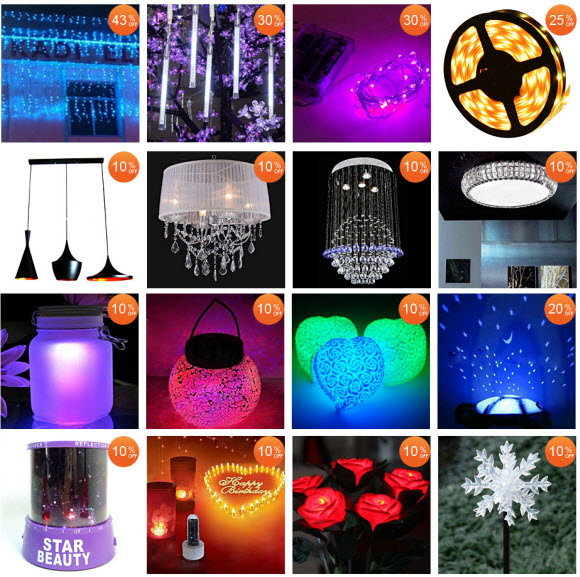 All the lights on sale will be delivered by an express shipping method so that merchants can refill their inventories in time to ensure high resell margins. Besides, although AliExpress.com is a wholesale shopping website, minimum order quantity is as low as I piece only. That's why AliExpress has attracted so many end consumers in addition to its major customers, who are merchants or re-sellers buying wholesale products from the site for their retail business.
Based on our knowledge, AliExpress is a legitimate company that connects the greatest number of qualified Chinese suppliers and millions of global buyers. When you place an order on the site, AliExpress will provide escrow buyer payment protection service to ensure that your rights and interests will be well protected. Your payment won't be released to the buyer until you confirm the receipt of the order. Furthermore, when any dispute on the order occurs, you can submit the case to AliExpress for ruling.
Among the various discounted Christmas 2011 lights, the Inside Home Decoration Lights and Lights as Christmas Gifts are especially worth checking out. For the inside home decorating, you will find fashionable pendant lamps, classic crystal chandeliers, stylish wall lamps, modern desk lamps and more. For gifting, you will see a variety of popular and innovative lights, including sun jar solar lights, mosaic glass LED solar lamps, baby slumbered turtle projector lights, star lights, Christmas candle lights, never-fade rose LED lights, snowflake lights and more.
Leave a Reply