I have introduced a good number of China-based online electronic gadget stores at this site and more are being added to the category. Eachbuyer.com is the latest one I've recently discovered and believes that it is a store worth being trusted by global buyers. My reasons are simple enough:
1. The store is honest and open-minded by making its contact information clearly known to the public.
Headquartered in Hong Kong, Eachbuyer.com has 20 local warehouses in the USA, the UK, the mainland China, Hong Kong, Australia, Germany, Spain and more. It stated the office address (RM1202, 12/F, TUNG CHUN COMMERCIAL CENTRE, 438-444 SHANGHAI STREET, KOWLOON, HONGKONG) and phone service number (00 852 8191 5696) clearly at its official website. This needs courage and most Chinese stores won't do that to avoid troubles. At the same time, this shows how open and honest the store is. It does not mind being further researched by buyers who have a chance to visit its working place. Anyway, I still guess it should also have offices in Shenzhen, the neighboring city with the largest quantity of electronic factories.

2. The store is experienced in selling electronic gadgets at well-known platforms.
Just like the popular Chinese gadget shop Banggood.com or Focalprice.com, Eachbuyer.com rooted its feet on the global market not from its own shopping website. Instead, it built its name from famous third-party transaction platforms like eBay. It has been making huge success from selling cheap but quality made-in-China consumer electronics at eBay since 2004. It is the ambition to expand its business scope that urges it to create its own shopping website Eachbuyer.com, which can help the company to better offer services to its customers across the globe. After all, merchants have to abide to lots of rules and regulations established by trading sites such as eBay or Amazon and they have to pay commissions to these service providers. By using their own sites to sell products, their cost can be significantly reduced and thus be able to offer lower prices to benefit the customers.
3. The store offers free shipping on all orders.
Free shipping is honored by Eachbuyer.com to most destinations around the world. This value-added service is nothing particular among Chinese electronic stores. But still, it is a plus to a store as people hate to calculate shipping fee and are commonly worried about having to bear high international shipping cost.
Note that if you choose its free shipping service, you choose Airmail by default, which takes 10-20 business days for a package to arrive at your doorstep. If you want faster shipping, you need to pay a discounted shipping fee. The expedited shipping method it provides takes 3-7 business days for delivery.
4. The website Eachbuyer.com is secured by Norton (empowered by VeriSian).
This means you can be assured that the information you input into the site will be well protected. Your confidential information such as financial information won't be seen or manipulated by unknown parties. Only legitimate shopping websites with capacities will put the safety of their customers at the top priority and are willing to spend money to ensure the protection.
5. The store offers discounted prices for wholesale orders.
A certain degree of discount will be offered if you order in bulk based on the specific order quantity. The more you order, the deeper the discount is. You can contact its wholesale sales people via any of the following means:
Tel: 00 (852) 8179 9781
Email: wholesale@eachbuyer.com
Skype: cs.charlie@live.com
MSN: cs.charlie@live.com
Gtalk: EachBuyer@gmail.com
EachBuyer.com/wholesale
6. The store hosts an exclusive channel for auction deals.
Every day, several new deals are added to the Auction page and you can bid on the products you are interested in. If you successful win the bid, you may get an awesome deal at a price much lower than the market price.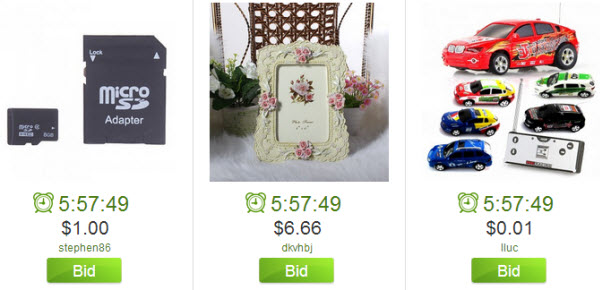 7. The customer service of the store is handy and easy to reach.
By providing multiple customer service means including live chat, email (cs@eachbuyer.com), phone call, Skype, MSN and Gtalk, customers can find help from its service people easily. Besides, you can also visit its Facebook page or Twitter page to ask for help. For detailed contact info of the site, please click here.
8. Eachbuyer is not simply an electronic gadget store but also carries a wide range of novel and useful home and garden supplies, clothing and accessories for men, women and kids, health and beauty products and sporting goods.
It seems to be a hot trend for electronic gadget stores like Eachbuyer.com to expand its business scope into more fields. The good thing about this is: customers can shop for lifestyle and home living products at one single site and save the hassles of hopping over different sites to place orders on different products.
Tips to get best deals on cool electronic gadgets at Eachbuyer.com:
1. Check out the Special Deals zone at its homepage as well as its Auction channel.
2. Search for valid Eachbuyer.com coupon codes for a better saving.
6 Responses to "Eachbuyer: A Chinese Gadget Store Offering Worldwide Free Shipping"
Leave a Reply