Generally, since we wear couple rings very frequently, when we choose couple rings, branding becomes not that important. The designing is what really matters. For most young people, the budgets for purchasing couple rings tend to be not that high. So how can we buy cheap couple rings with our desired styles?
Below lists some of the cheap couple rings online stores for your references.
[sectiontitle]Lightinthebox / Miniinthebox[/sectiontitle]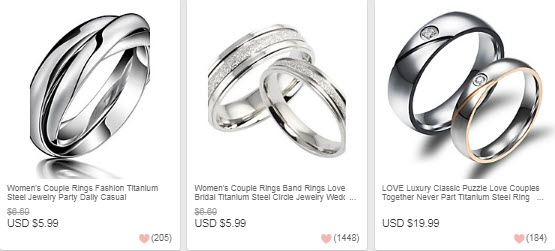 Lightinthebox and Miniinthebox belong to the same company, listed on New York Stock Exchange. Lightinthebox has years of experience in the field of wedding apparel. Similar to the variety of wedding gowns, the choices of couple rings at Lightinthebox are diverse. What is more, the prices for couple rings offered by Lightinthebox are very attractive. You can get gorgeous couple rings with just several dollars. Lightinthebox is a good option for cheap couple rings.
[sectiontitle]Soufeel[/sectiontitle]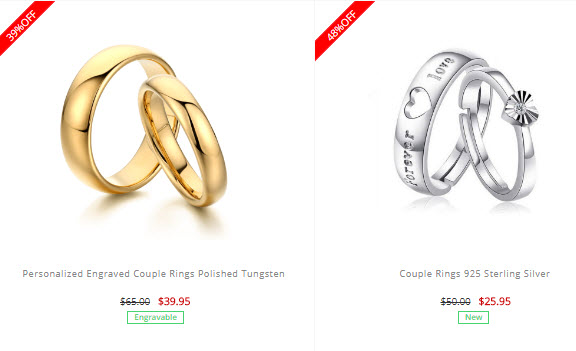 Soufeel is a company specialized in jewelry designing and producing. This brand enjoys great popularity on the global market, especially on the European market. The most appealing products of Soufeel are definitely their personalized jewelry. Similarly, the couple rings at Soufeel are available for customization. Soufeel has dozens of couple rings to choose from. Some of them are personalized couple rings / engravable couple rings. You can have your personalized couple rings engraved with letters of your desire. The prices are not expensive, too, at 30 dollars or so.
[sectiontitle]Vancaro[/sectiontitle]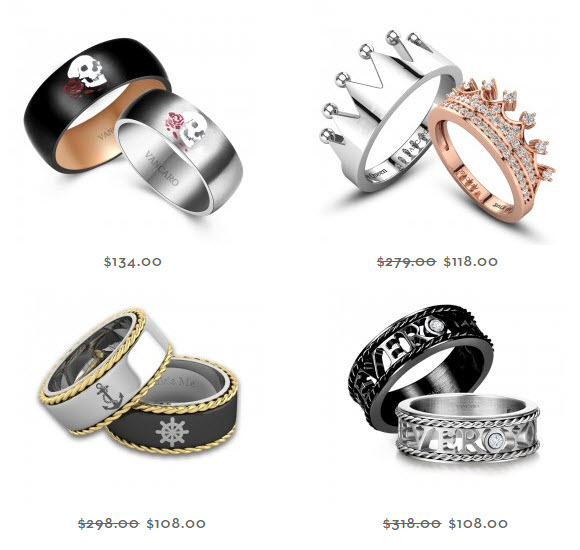 The key products of Vancaro are engagement rings. For this reason Vancaro has lots of specially designed couple rings, such as skull rings for couple or crown couple rings. Compared with the low-priced couple rings at Lightinthebox, the prices for couple rings at Vancaro are more expensive. However, they stand out by more outstanding personality in terms of designs.
[sectiontitle]Jeulia[/sectiontitle]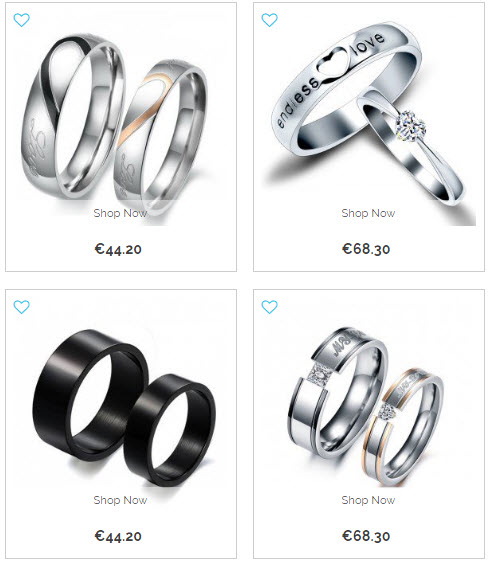 Jeulia has some couple rings similar to Vancaro in terms of designs. But the prices they offer are slightly lower. For those looking for cheap couple rings, Jeulia is also a great option.
To sum up, if you have a very limited budget on cheap couple rings, Lightinthebox and Miniinthebox are the best choices. If you want to have your couple rings customized with engraved letters, then Soufeel is a better store. If you want to purchase couple rings with special styles, Vancaro is an ideal option.