In my current long list of online Chinese stores, Bornprettystore.com is the only one that specialized in offering beauty and make-up products. The major operation offices of this company are located in Shenzhen, China, home to countless factories.
As a one stop make-up and beauty online store, Bornprettystore.com offers a wide range of make-ups, make-up tools and make-up kits. In addition to these major categories, the funky shop also has some minor categories, including jewelry & accessories, accessories for cell phones and tablet PCs, hair salon & decoration, clothing, home & garden, toys, stationery, contact lens and outdoor sports. All of the products are meant to help women create a fabulous look or lead a fashionable lifestyle. It is shopping site that fits both re-sellers and individual women who are in fashion.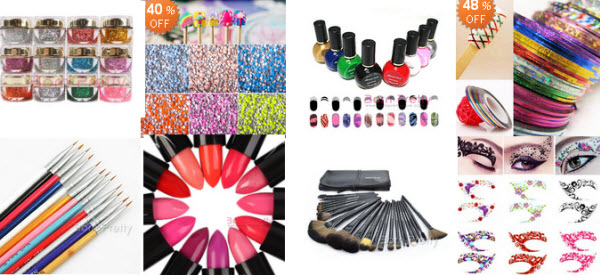 In particular, the nail art products are definitely one of the bestsellers at the site. There you can everything related to polishing nails or decorating nails, including nail art decals, nail art polish, stamping nail, acrylic nail art, UV gel, nail brushes, nail tools, nail tips, nail glue, nail care, nail art equipment, nail art containers and nail art magazines. Besides, each of the nail ail major categories has a number of sub-categories so that you have plenty of choices based on your personal tastes.
As for the pricing, to be fair, Bornprettystore.com is quite reasonable in this respect. The prices they offer may not be the rock-bottom all the time but they are definitely competitive. Providing factory-direct wholesale prices to their customers is one of the core mottos of the Chinese online store. Plus, every order of any size is honored with worldwide free shipping by Singapore airmail or Hong Kong airmail. If your order value reaches $200, you can also enjoy free express shipping by EMS, DHL or UPS Express. Drop-shipping orders will be also shipped without shipping fee unless you want to use an express shipping method on orders under the free express shipping threshold.
Note that Bornpretty store only accepts Paypal for retail orders. Only when your order reaches $500, they will receive the payment through bank transfer/wire transfer/T/T in addition to Paypal. For buyers, I would always encourage you to go for Paypal if possible as it is much safer than other payment options.
It is hard to say whether the quality of the beauty and make-up supplies is good or not. Based on my experience, you can't expect to buy high-end make-ups or cosmetics from any Chinese store but you can get best valued make-up tools like makeup brushes, powder puff, makeup removers or makeup container boxes or bags. At the same time, it all depends on your exact requirements for quality standards. If you are not pretty sure that their quality levels meet your expectation, just start with placing a small order. After you receive the goods, you will be able to make a better evaluation on the quality condition.
To summarize, Bornprettystore.com is a legit online shopping site based in China selling cheap make-up and beauty products. Its website design, navigation system and shopping system seem to be not so user-friendly but their prices are really attractive. If you need customer service, just visit their contact page and leave questions in the box. They will reply to you within 1 business day. It is a pity that they don't have a live chat service and we can't reach them in a real time fashion. They don't provide a service contact phone number, either.
Just for your reference, the following trusted Chinese stores may also offer the same or similar nail art, make-ups and tools and beauty products but neither of them is as professional as Bornprettystore in this field:
2 Responses to "Bornprettystore: An Online Chinese Beauty and Make-up Store Providing Free Shipping"
Leave a Reply