I haven't visited AliExpress.com for a couple of days. Today when I opened its homepage I suddenly found that AliExpress had revamped its homepage. I don't know when the change was made, but I am sure it happened before the New Year Day. Maybe the China wholesale platform AliExpress refreshed its homepage style to welcome the new year 2011. Anyway, the new homepage looks simpler and seems easier to navigate than before.
I remember I once discussed with a friend who works in AliExpress.com and mentioned that the upper part of their homepage seems too heavy at a glance. Too much information was put together inside a limited space and I found it hard to get the point. Now this problem has been successfully addressed, at least I personally believe so. The upper part of the homepage has been replaced by a single large banner clearly showing that AliExpress is a B2B transaction platform. Also, two key messages about the online shopping website are displayed right beneath the banner: its Escrow service and its relationship with Alibaba.com.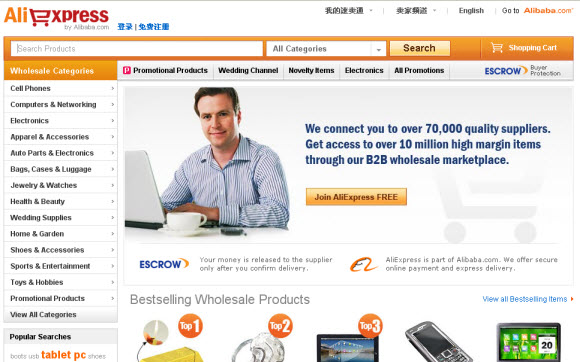 The "Bestselling Wholesale Products" and "SuperDeals" sections are preserved while a transaction process chart is added below. From the chart, new visitors can effortlessly become aware of how to shop items there and how AliExpress handles the whole transaction process.

About AliExpress.com
Officially launched in April, 2010, AliExperss.com is an express and small quantity wholesale channel of Alibaba.com. As a transaction platform, it adopts escrow service to protect the payment of buyers and to supervise the transaction process between buyers and suppliers. Being a legitimate company located in Hangzhou, China, AliExpress boasts of great customer service in addition to the biggest range of qualified Chinese suppliers as well as the largest collection of item categories. Its apparel and consumer electronics are two of the hottest categories among global buyers.
For more detailed info, please read AliExpress Review or visit AliExpress.com.
Leave a Reply