The long-expected AliExpress 1st Anniversary Sale finally started! From April 24 to April 30 (GMT -7), 2011, buyers can enjoy huge discounts and exclusive benefits from the following promotions or campaigns:
1. Gaga Deals: Up to 80% Off
During the AliExpress 1st Anniversary Sale period, the wholesale platform offers up to 80% off a selection of items each day. The on-sale items are limited in quantity and available for 8-hours only so buyers need to hurry to grab the deals!


Please note that you need to make the payment for the deal you've grabbed from the Gaga Deals within 24 hours of placing the order. Otherwise, the order will be automatically cancelled.
2. Up to 70% Off Storewide
A wide array of items are offered at deep discounts – up to 70% off – for 7 days only at the AliExpress 1st Anniversary Sale, including cell phones, apparel & accessories, computers & networking, electronics, auto parts & accessories, jewelry, toys & hobbies, sports & entertainment, home & garden and more.

To identify whether the item you want is a special offer for the AliExpress 1st Anniversary Sale, just simply see if it is labeled with a small discount icon.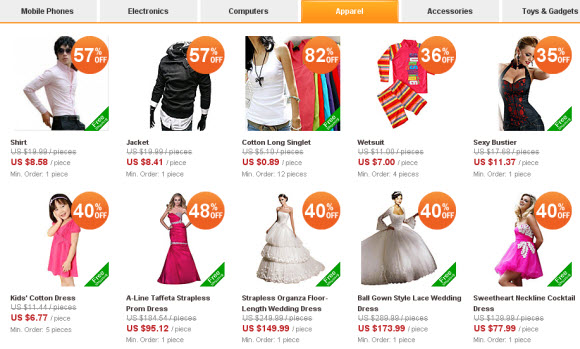 3. $5 Signup Coupon
From April 18 to April 30, AliExpress gives away 1000 coupons each day for new registrations with the wholesale site. The coupon can be redeemed on any purchase during the AliExpress 1st Anniversary Sale week during April 24 to April 30.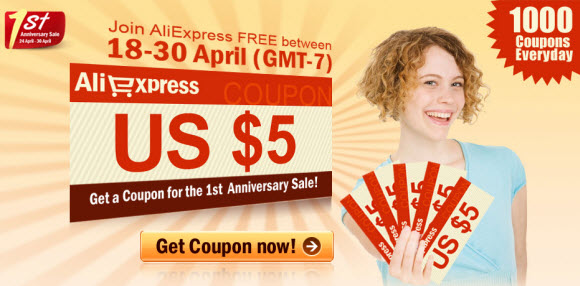 4. AliExpress Premier
The AliExpress Premier program is a new channel launched during the AliExpress 1st Anniversary Sale. It is intended to help global buyers find out authentic name brand products from licensed suppliers more easily. All items included in the channel are guaranteed genuine and if you find any fake there you can get 3x your money back. Besides, each order on any item there will be dispatched within 24 hours since the confirmation of payment. And finally, if you get a wrong item purchased from the channel, you can return the shipment for FREE!

For more details about the AliExpress 1st Anniversary Sale, please visit AliExpress.com.
Tag: AliExpress Sales
Leave a Reply