Established in 2006, Lightinthebox.com is a fast-developing wholesale and retail shopping website, whose headquarter is located in Beijing, China. Currently, their customers come from over 170 countries, and the number as well as the range of their customers is still growing, at a very rapid speed.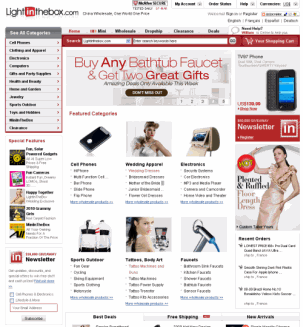 Just like Amazon.com, Lightinthebox.com is an online store where you can buy different products under different categories, not from any single supplier or manufacturer. On the other hand, all items listed there are sourced from China-based factories or manufacturers by Lightinthebox's professional product management team and therefore quality is double guaranteed: Lightinthebox verifies the quality of the items when sourcing them from suppliers and when sending them to buyers. Likewise, to provide their customers with best service, Lightinthebox has a dedicated customer service department to handle pre-sale and after-sale issues on a 24-hour-each-day base.
Besides, Lightinthebox.com is deemed to have a similar key business concept to Zara.com, that is, to lead the world in the fashion shopping arena. Items offered by Lightinthebox.com all feature fashionable style and being up-to-date with the latest fashion trends or events, mainly including categories like apparel (especially wedding dresses), made-in-China cell phones, home & garden, electronics, sporting goods, jewelry, etc. Among all, their wedding dresses seem to have won the best reputation for their guaranteed quality, custom-made service and good prices. Also, you can view this post Lightinthebox review and find more detailed information about Lightinthebox.
Company profile of Lightinthebox.com:
CEO: Quji, Guo. Mr. Guo got his M.A. at University Of Illinois At Urbana-Champaign and had worked in Microsoft and Amazon before joining Google China as Kaifu Li's special assistant in 2005, where he had an outstanding performance working in the position of CSO (Chief Strategy Officer), contributing a lot to the Google China music searching program, Kingsoft, Google Pinyin and more.

Establishment Time: 2006
Company Size: over 300 full-time employees (in Beijing, Shanghai and Shenzhen)
Business Model: an online shopping website integrating the business models of B2C and B2B, and serving both  personal shoppers and business owners from all over the world.
Number of Products: over 100, 000 items covering 14 major categories.
Number of Customers: millions of registered customers from 170 countries and regions.
Annual Sales Volume: over 200 million RMB.
Accepted Forms of Payment:
• PayPal
• Credit Card and Debit Card
• Wire Transfer
• Western Union
Delivery Options Available:
• UPS
• EMS
• DHL
Note: For these delivery options, shipping only takes 2-5 days to arrive in North America, Europe and Australia.
Customer Service:
• Office Hours: 24 hour customer support for any questions from Mon. to Sun.
• Email: sales@lightinthebox.com
   Note: For order status and other after sale support, click here.
• Address:  #56 Dong Si Huan Zhong Lu, Ocean International Center A Bld 2506-2507
Chao Yang District, Beijing
China, 100025
Visit www.lightinthebox.com for details.
4 Responses to "About Lightinthebox.com"
Leave a Reply