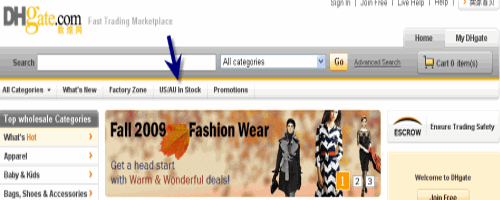 I've been researching on the USA/Australia Direct Dispatch service for quite some time and I am surprised to find that it is really a smart try! The Beijing-based B2B wholesale company wins out by its endless innovations. From the very beginning, it targets at small and medium-sized international buyers and Chinese sellers, and grabbed a significant market share by a never-used-before online wholesale trade mode: unlike Alibaba, it makes money by charging a certain sum of fees on every completed transaction. This has just paved the way leading to DHgate's success. And now DHgate seems to be enlarging its market share painstakingly – I notice that the China wholesale star has been launching new programs or services one after another. Oh, I've been going too far away, let's come back to today's topic — DHgate surprised the world's wholesale industry with a creative wholesale idea: small orders can also be shipped by sea to destination countries with minimum shipping cost!
You might be curious: how could DHgate make it? Actually it is quite simple. It is more of a strategy than of a project. Here is how the strategy goes:
First of all, DHgate integrates the products offered by different sellers into one single container or different containers, and ships the items to the USA or Australia. After all these items arrive at the destination port, DHgate's partners there will transfer the items to the local warehouses. Once buyers place an order on any of these items, they will also help deliver the purchase orders to buyers' door via local logistics service like FedEx. That means, when you place the order, the item is already stocked in your local warehouse or on the way to your country. This greatly reduces the time span from placing an order to receiving the item(s). And more importantly, as the items are shipped by the lowest-cost shipping method—ocean freight shipping, buyers can save more money and hence get more profits.
Very simple, isn't it? But I bet you never heard of such a bright wholesale plan before. It is normal. In the world overwhelmed by innovations, someone got to figure out a new way to grab the crown. For those who are interested in china wholesale market or the e-commerce arena, I recommend you to seek some inspiration from how DHgate progresses!
Oh, I nearly forgot, you might want to check out what are the latest items this program offers, right? Just go to DHgate's homepage, and click the navigation bar "US/AU In Stock", which leads to a zone where you can find all items that are already in the USA/Australia, or on the way to the two countries.
Leave a Reply