Christmas 2013 is still two months ahead but some Chinese online stores have kicked off their Christmas promotions. In particular, I noticed that Pandawill.com, the professional cell phone online supplier based in China, is hosting a Christmas early-bird sale for a range of latest smartphones empowered by the most popular features.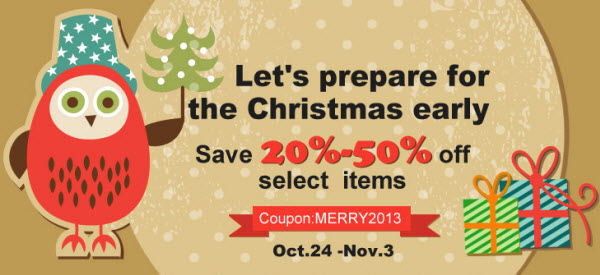 A 20%-to-50%-off discount is offered on a selection of the best rating cell phones at the site. If you are interested in purchasing discounted made-in-China smartphones. This is definitely a great opportunity. This time, the on-sale mobile phones all come from the top Chinese brands including Haier, Newman, Haipai, Cubot, Mingren, ZTE, Feiteng and Lenovo. By using the coupon code "MERRY2013" at checkout, you will get the prices reduced instantly. The after-discount prices for the phones range from $69.99 to $238.99.
Besides the best-selling cell phones, the Pandawill first-round Christmas sale also covers tablet PCs, computer accessories, watches, fashion accessories and toys. Based on my knowledge, tablet PCs is the second best product line of Pandawill.com. Note that this offer will last through November 3rd, 2013.